My friend is looking for kanji for a tattoo, and came across a picture of some that he suspects says something similar to what he's looking for. Unfortunately, as it's a picture and not text, we have no idea how to look it up and check.
I've seen this community referenced a few times over on
little_details a couple times, and I was hoping you guys could tell us what it means.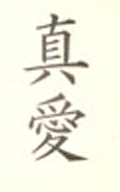 Edit: That was really fast, thanks. :)